—
Low-Field MRI vs High-Field MRI – Which Should Your Facility Choose?
If you're in the market for a new MRI system, choosing between low-field and high-field is one of the first choices you must make. What's the difference? Read on for the pros and cons of each system, so you can direct your due diligence and research in the direction that's right for your facility.
From the first MRI scan performed on a human in 1977, MRI technology took off and spread rapidly to become a ubiquitous diagnostic tool. MRI imaging advances today make it possible to trace even thought sequences for brain research and allow surgeons to monitor progress during surgery.  MRI market growth is only expected to increase.
Low-field MRI started in the 1980's as a low cost alternative MRI machine that was also able to fill a need for claustrophobic patients. As these low-field machines were also more "open", not having a closed bore but being open on the sides, they also allowed claustrophobic and more corpulent patients an MRI option.   Over the years, low-field has grown a small but strong following, mainly in the larger field of view needs such as orthopedic, and is primarily used in imaging centers.
High-field MRI, because it has stronger magnets and higher field strength (Tesla), produces much better images and fulfills smaller field of view needs that the low-field systems aren't capable of, such as neurology. High-field MRI offers far better resolution and clarity. They are closed-bore systems, but more recently wider bores and even mirrors that make the bore seem larger have helped with nervous patients.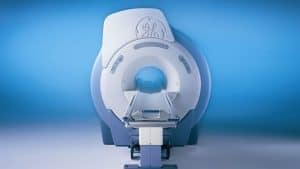 Cost Consideration
Low-field MRI definitely has a more attractive cost. High-field MRI systems can be 2 to even 3 times more expensive new from the OEM. The cost of low-field lowers the barrier to entry, and also allows facilities to theoretically achieve breakeven more quickly. Additionally, recent decreases in scan reimbursements can further impact the ability of a facility to start seeing a return on investment quickly with more expensive systems. This alone can sway a facility into the low-field camp.
However, it's important to keep in mind that accreditation is necessary for reimbursement. Accreditation has become more difficult for low-field MRI systems these days, something we will discuss in more detail in our next blog post.
Image quality and Patient Care
A high-field MRI system vastly increases what a facility can offer patients in this imaging modality. While low-field is largely limited to orthopedic applications, high-field MRI systems have a much broader imaging potential with the significantly higher resolution and clarity offered by these systems. An imaging center or hospital can cover imaging needs from standard musculoskeletal studies to advanced work in cardiac, neurology, and specific spectroscopy scanning,  offering patients the best image possible the first time. Think high-def television and you'll start to understand the quality high-field MRI brings to the table.
The quicker scan times of a high-field system are very attractive to patients, as they spend less time in the bore. But it also has the potential to be a financial boon for your facility. Low-field MRI scan times average one hour, with high-field MRI scans averaging less than half of that, giving you the opportunity to virtually double your throughput seeing more patients in a day than a low-field system could accommodate.
 What if you simply can't afford a new high-field system? We have some options for you.
One way to circumvent the very real challenges of the high cost of high-field MRI, is to consider a refurbished system.  If sourced from a reputable company, these systems can be the same quality as a new system at a fraction of the price, allowing your facility to enjoy the benefits of the high-field MRI machine with a much faster return on investment.
BC Technical is the number one non-OEM provider of refurbished, high-field MRI systems from GE and SIEMENS, and creator of the industry standard Black Diamond® certified program. Breakeven is achieved two to three times faster than with a new system, and every refurbished MRI machine has undergone a thorough 88-point inspection to identify and replace any worn or damaged components.
If you're interested how we can help your imaging center or hospital facility with a refurbished high-field MRI machine, contact us at 888-228-3241.
Stay tuned next week for an in-depth discussion on how accreditation and reimbursement impact your decision.